Website :
www.chongthai.co.th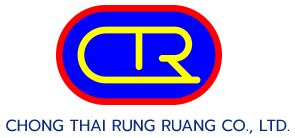 Our Story

Chong Thai Rung Ruang Company Limited was founded by Mr. Panya Chongthairungruang.
In 1961, Chong Thai Heng Limited Partnership was established to engage turning, milling, welding and assembling as a manufacturer of sheet metal forming machine.
In 1976, it was changed its name to Chong Thai Rung Ruang Limited Partnership, with CTR as the registered trademark.
In 2011, it was transformed into Chong Thai Rung Ruang Company Limited, which is currently a specialist in design and production of parts, equipment, tools, machinery and works according to the drawings for various industry sectors to meet the needs of customers such as metal working, assembly, parts manufacturing, molds, jig & fixture, CAD/CAM work etc.
Vision
CTR is committed to continuously improving the quality of design and production of products, tools, equipment and parts to achieve excellence and innovation.
Mission
CTR is committed to developing more effective work processes including seeking and collaborating with partners for the continuous development and improvement by using available technology and resources effectively.